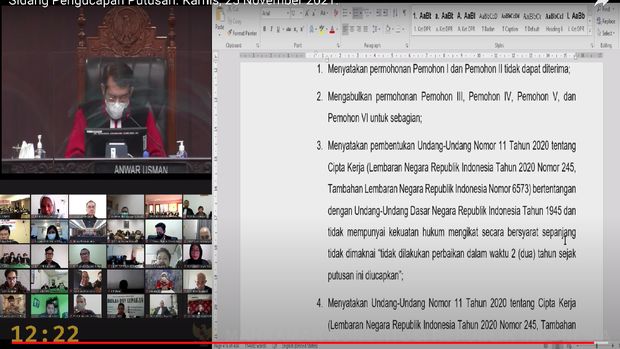 Jakarta- The Constitutional Court has decided to grant the application for review of the Job Creation Law to applicant III, Petitioner IV, Petitioner V, and Petitioner VI in part
In the main petition, the panel of judges also stated that the formation of Law Number 11 of 2020 concerning Job Creation is contrary to the 1945 Constitution and does not have conditionally binding legal force as long as it is not interpreted as "no corrections have been made within 2 years since this decision was pronounced."
"Stating that Law Number 11 of 2020 concerning Job Creation is still valid until the formation is corrected in accordance with the grace period as determined in this decision," said Anwar.
The panel of constitutional judges also ordered the legislators to make improvements within a maximum period of two years after this decision was pronounced. If within that time limit no improvements are made, said Anwar, then the Job Creation Law becomes permanently unconstitutional.
If it is not corrected, then the law which is revised by the Job Creation Act is considered to be re-applicable. The government is also prohibited from making derivative rules and derivative policies from the Copyright Act for the next 2 years.
"If within a period of 2 years the repairs cannot be completed, then the law or articles or the material content of the law that is revoked by Law Number 11/2021 must be declared valid again," said Anwar Usman.
"Declaring to suspend all actions or policies that are strategic in nature and have a broad impact, and it is also not justified to issue new implementers related to Law Number 11 of 2020 concerning Job Creation," said Anwar.
The four dissenting opinion constitutional judges are Anwar Usman, Daniel, Manahan and Arief Hidayat.
Sumber: Source: